What on earth is a composting portable toilet?
This is likely the first question you have, but rest assured, we'll be answering it and many other questions in this composting toilet comparisons guide, which will include recommendations, composting toilet reviews and ideas on how to find the best composting toilet system for your home.
To start with, portable compost toilets are eco-friendly toilets that turn waste from humans into useable fertilizer for various purposes. The best composting toilet is reasonably priced, comfortable, stylish and most of all, fully functional. Let's check out the top picks for the best composting toilets!
Our Top 5 Composting Toilet Comparison Chart
Best Composting Toilet Reviews
Nature's Head Self Contained Composting Toilet with Close Quarters Spider Handle Design
I've listed this Nature's Head model as the best composting toilet on this list because it has several amazing features. It's a self-containing model with a comfort, elongated seat.
Specifications
22 x 20.5 x 21.7 inches;
28 pounds;
Stainless hardware;
Made in the USA;
Colors available: Granite.
List of Pros
Comfort seat;
Elongated seat;
Disassembles easily when emptying is required;
Fan and vent hose are included.
List of Cons
As with most composting toilets, this unit is on the pricier side, but it's well worth it;
It's not attractive.
Conclusion
This is the best compost toilet in my opinion, and I've used it myself. I highly recommend this model for its functionality, comfort and design.
Biolet Toilet Systems BTS33NE Biolet 33 Non-Electric Waterless Toilet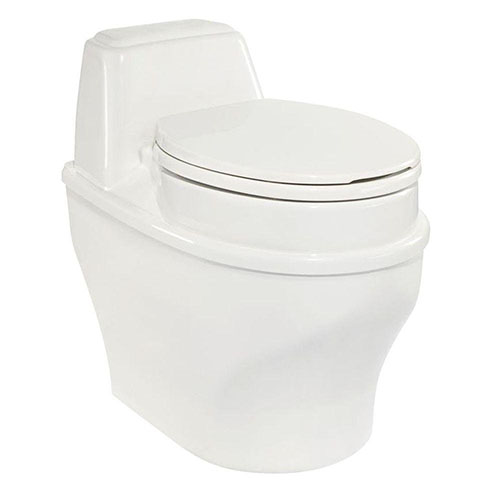 This Biolet toilet is an excellent product for homes that are looking for an elegant, sleek, waterless and non-electric composting toilet.
Specifications
26.5 x 15.5 x 24.8 inches;
25.5 pounds;
Waterless;
Non-electric;
Colors available: White.
List of Pros
High end style with great added features;
Helps you save money and the environment;
Nicely contained for a more simple, modern look and no exposed functions.
List of Cons
One Biolet composting toilet review said that you need to ensure that the drain tube is perfectly installed and aligned because if not, it can flood the bottom of the toilet, which naturally causes further problems and a mess, but proper installation will help with this;
Again, this is a more expensive toilet for the home.
Conclusion
Waterless composting toilets are not loved by everyone, but if you know how to operate them, they can be great assets to your home. I recommend this model as the best waterless toilet.
Sun-Mar Excel Non-Electric Self-Contained Composting Toilet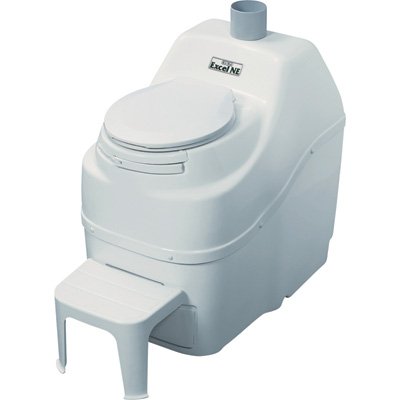 This is another one of the best composting toilet products on the market. This model is also non-electric just as number 2 on this list.
Specifications
36 x 36 x 28 inches;
90 pounds;
Non-electric;
Waterless;
Colors available: White.
List of Pros
Does not use water at all, so it can save tons of money on energy and water bills;
Low profile, elegant and simple style;
Comes with changeable diameter bio-drum and out-of-the-way control handle;
Non-electric
List of Cons
Some of the composting toilet reviews said that the drum handles are prone to breaking;
This toilet is even more expensive than some of the other models, but keep in mind that it is extremely high quality if you can afford it.
Conclusion
I love this composting toilet for being non-electric and 100 perfect non-polluting as well. I highly recommend it if you have the funds.
Laveo Dry Flush Chemical Free Odorless Portable Lightweight Electric Waterless Toilet
The Laveo Dry Flush Chemical Free Odorless Portable Lightweight Electric Waterless Toilet is wonderful, and one of the reasons that I love it best is that it's affordable. You don't have to break the bank getting this super economical and environmentally friendly product. In addition, it's easy to install and works great.
Specifications
20 x 18 x 16 inches;
26.5 pounds;
Waterless;
Colors available: White.
List of Pros
This item comes at a great price unlike many of the other products;
Does not use water;
Does not use chemicals;
You don't have to worry about an odor;
Double bagging refill technology.
List of Cons
A few of the composting reviews claimed that double flushing may be required, even for simple liquid waste, and maintenance was rather difficult when problems such as this arose;
Leaks were an issue for a few users.
Conclusion
This is an excellent composting toilet. It uses no water, no chemicals and has no odor problems. It's also a great price.
Separett Villa 9210 Waterless Composting Toilet Ac/dc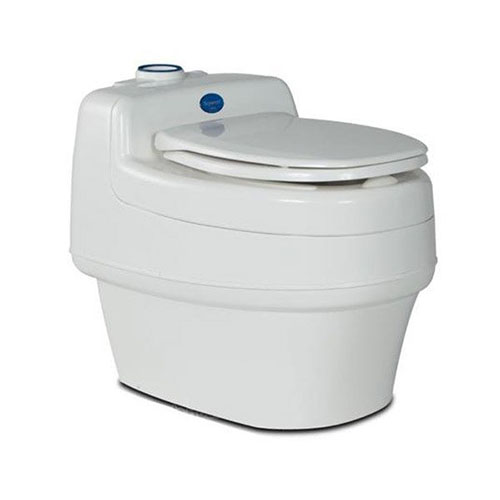 The Separett Villa 9210 Waterless Composting Toilet Ac/dc is one of the top toilets for composting because of its ergonomic design, easy to use trap and odorless flush. It's also super quiet!
Specifications
18 x 26.5 x 21.3 inches;
47 pounds;
Waterless;
Comes with small fan and child seat;
Comes in DC or 9210 models and AC or 9200 models.
List of Pros
Completely odorless;
Uses absolutely no water, so it's great for saving on water and electric bills;
Compact, making it great for RVs, tiny homes or other tight spaces;
Super quiet flush;
Can be used with kids;
Changing the waste bag is easy and clean.
List of Cons
One composting toilet review said that there's a learning curve where operating and troubleshooting this toilet are concerned, but once you get the hang of it, it's great;
This is a more expensive composting toilet as many are.
Conclusion
If you have the money to purchase this more expensive Separett composting toilet, it's definitely worth it. I love the easy to change bags and quiet, odorless flush.
What Is a Composting Toilet?
Let's get one thing straight first. A composting toilet is not your average toilet, and in fact, you probably don't see them very often, but they are extremely cool.
Composting toilets are just like receptacles, and they hold human waste as well as toilet tissue and some form of bulky material. This latter material may be something like shavings of wood or peat moss. These are carbon additives to help the breakdown process of the waste.
The best composting toilet both immobilizes and destroys dangerous pathogens from human waste and changes the nutrients found in that waste into an end product that can be used as a fertilizer.
How Do Composting Toilets Work?
If you've ever had a compost bin in your yard or garden, then you already understand the basic idea behind a composting toilet. You are creating a microbial environment for fungi and bacteria to multiply so that you can get a great and safe fertilizer.
To do this, your composting toilet has to do three main things.
First, your toilet has to create a certain level of moisture. This will come from liquid as well as excrement, so you generally don't need to add other water. It can be difficult to perfectly regulate the moisture levels in your composting toilet, so the best composting toilets have special features to make sure that there is a save level of moisture inside and not to bad of an odor.
Next, it's important o have provide the waste location with adequate amounts of oxygen as this will greatly aid in the breakdown process as well. Oxygen may be added by the use of pile leveling fixtures, auto mixers or tumbling drums. There also might be a manual turner on your catch for the waste.
Finally, the waste in your composting toilet needs to have enough heat. Most of the time, the heat is already there in the pile, but there may also be need for a solar or electrical heater.
All of these three factors work together to help break down the waste and turn it into safe and usable fertilizer.
Types of Composting Toilets
Reading compost toilets reviews will help you get an idea of the different types of composting toilets. When we divide the different types of composting toilets, we consider two main factors, and they are as follows.
Assembly
Assembly is the first distinguishing factor between different types of composting toilets. There are two main types of assembly.
Site-Built Composting Toilets
First, there are site-built systems, which is fairly self explanatory. These systems are built on site, and they can be built indoors or outdoors. Naturally, outdoor, site-built systems may be calls portable composting toilets, port-a-potties or outhouses. But these toilets can be built on site indoors as well.
Manufactured Composting Toilets
In addition to site-built composting toilet systems, there are also manufactured systems. These are the toilet systems that we are mainly discussing in this article as you can buy these systems pre-made. Manufactured composting toilets may either be centralized or self-contained, or they might be dry systems, which are also called waterless toilets.
According to the best composting toilet reviews, centralized toilets have a catchment chamber in another location. For example, the catchment chamber may be located outside or in the basement. Self-contained units have the catchment all in one with the toilet and not in another location.
Finally, waterless toilet reviews explain that the best waterless toilet has air flow that helps keep the contents of the catchment dry and ventilated, and this helps the breakdown process without the need for water. Some people aren't so sure about these types of composting systems because all harmful pathogens may not be killed via this process.
Processing
First, let's talk about forms of processing. Keep in mind that all of the composting toilets you look at will have either a continuous or a batch form of processing and either a passive or an active breakdown process.
Forms of Processing
There are two forms of processing the waste in a composting toilet. There is batch and continuous.
Forms of Processing: Batch Processing
Batch processing means that the waste fills the receptacle and is removed when full. It is left to decompose and cure.
Forms of Processing: Continuous Processing
Continuous processing only has one receptacle unlike the batch processing, which has many. Continuous processing means that waste is put into the sole receptacle continuously, and new waste materials are always being added.
Breakdown Processes
Next, lets talk about the breakdown process. There is active breakdown and passive breakdown.
Breakdown Processes: Active Breakdown Process
Active breakdown means that external features work to break down the compost. These features may be heaters, fans or processes for aeration. These compost quickly.
Breakdown Processes: Active Breakdown Process
Passive breakdown means that there are no external features, and the compost is basically left alone to breakdown. This is a slower method of composting.
Pros and Cons of Composting Toilets
Every type of toilet has its pros and cons, and it's important to remember that as you read compost toilet reviews and make a final decision on the best rated composting toilet for you. Here are the main advantages and disadvantages of composting toilets.
The Pros of Buying the Best Compost Toilet
The best composting toilet is a self composting toilet that doesn't need a lot of work. When you have one of these, there are many advantages.
You save money on the energy it would take to pump and clean your home's toilets.
You save money on the water it would take to use throughout your toilet systems. According to waterless toilets reviews, self composting toilet prices for waterless models could be higher to begin with, but they tend to use less money on water.
According to one self composting toilet review, you can install a self composting toilet absolutely anywhere.
The waste that usually goes down the drain has a ton of nutrients that could be used as great fertilizer after it has decomposed.
It's good for humans to know exactly what waste they may and where it goes. Many people know too little about what happens after they flush the toilet in their home.
The Cons of a Self Composting Toilet
Even though I definitely recommend getting a small composting toilet where you can and where it's needed, even pro composting toilets reviews will tell you that there are some drawbacks to this form of toilet.
It can be difficult to be that close to the reality of the waste you produce and the idea of seeing or keeping that waste around;
It is true that self composting toilet prices can be high, and even though you can save money on energy, water prices and fertilizer over time, it may not be feasible as an initial purpose for some people;
If you ever have problems with your composting toilet, it may be difficult to find someone who knows how to fix it. In addition, it may be a messier job to fix a composting toilet than it is to fix a

regular toilet system

;
This may sound like a silly negative of owning and using a composting toilet, but they don't tend to be very attractive. In fact, most composting toilets are rather ugly, and this is true whether they are inside or outside.
Summary and Making Your Final Decision on a Composting Toilet
If you've been considering the purchase of a composting toilet for your home, I hope that the above composting toilet comparisons helped you in making a final decision on a product. Having information about what a composting toilet is, how one works and the features you should look for should assist you in making the final decision.
Many people prefer to use typical, standard toilets in their homes, and there's nothing wrong with this, but having a toilet that composts and transforms waste can also be a perfectly viable option that can save you money and also aid the environment.
As you go through each and every compost toilet review above, try to imagine which unit you would feel comfortable having in your own home. There are a number of factors to consider, including price, style, location, breakdown process and technique. Each of the options will fit certain lifestyles.
Finish doing your research as you get interested in particular styles and narrow down your choices, and good luck on making your final purchase decision!